According to Custom Market Insights (CMI), The Global Website Builder Software market was valued at USD 2.1 billion and is projected to account for around USD 4.2 billion by 2030. The estimated CAGR is approximately 7.1% between 2022 and 2030. The report further provides an overview of drivers, restraints, and opportunities in the Website Builder Software market. Moreover, the report examines a global competitive analysis of the Website Builder Software market.
The key purpose of the Global Website Builder SoftwareMarket report is to deliver industry investors, company leaders, private equity companies, and stakeholders with comprehensive information, facilitating them to make informed strategic decisions concerning the changes in the Website Builder Software market throughout the world.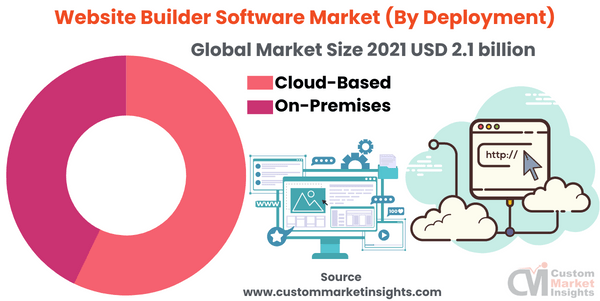 To learn more about this report, 
Website Builder SoftwareMarket: Overview
Website builder software is a platform or tool that enables businesses to create websites without requiring manual coding editing. With the help of the drag-and-drop editing tool provided by website builder software, a website can be created in a matter of minutes. Without coding expertise or experience, users may easily design a website by dragging and dropping pieces to the desired spot. Moving files or folder icons on a user's device are required. 
Browse the full "Website Builder Software Market Size, Trends and Insights By Website Type (Static, Dynamic), By Deployment (Cloud-based, On-Premises), By End-User (Individual, Commercial), and By Region – Global Industry Overview, Statistical Data, Competitive Analysis, Share, Outlook, and Forecast 2023–2032" report at https://www.custommarketinsights.com/report/website-builder-software/.
Growth Factors
One of the main factors driving the global website builder software market is the e-commerce industry's expansion. Through their comments, reviews, and feedback regarding the goods and services of businesses, e-commerce platforms assist businesses in identifying and assessing new clients. Additionally, it benefits businesses by offering transactional efficiency, fewer advertising expenses, efficient customer support, efficient information management, lower personnel costs, etc. E-commerce is a huge industry that is expanding rapidly on a global scale.
Open-source website development platforms are readily available. However, this could significantly impede market expansion. Instead, the technological advancements in the field of website building are anticipated to open up a wide range of potential prospects for the market for website builder software.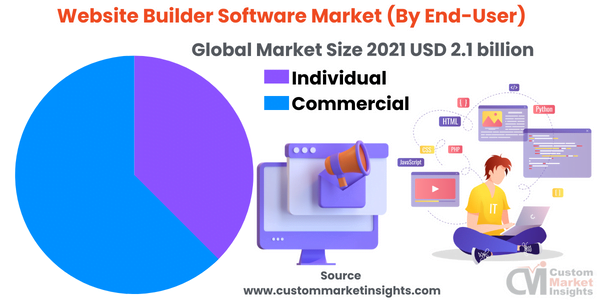 To learn more about this report, 
Segmental Overview
The Website Builder Software market is classified into website type, deployment, and end-user. Based on deployment, the cloud-based segment is anticipated to exhibit a high CAGR from 2022 to 2030. The rapid rise of cloud-based website creation tools has profoundly changed how information technology services are primarily employed in businesses. Small and medium-sized businesses (SMEs) are changing their attitudes toward cloud-based software due to benefits linked to data storage and improved safety and security measures of cloud technology.
The commercial category, which includes major organizations and small and medium-sized firms, holds the largest market share for the end-user segment over the forecast. The demand from the commercial end-user sector is anticipated to climb consistently as e-commerce grows and consumers of all ages turn to online markets to make purchases. A huge business cannot function without a website because it is crucial to increasing income and customer base while lowering marketing expenses. These are essential to the segment's expansion.
Regional Overview
Due to the growing demand for customized services from numerous small-scale organizations in the region and the rising demand for online web builder software or platforms, North America is anticipated to hold a significant share of the global Website Builder Software Market during the forecast period, indicating potential market growth.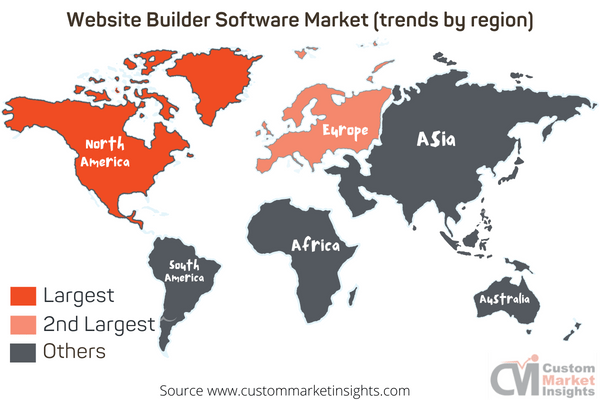 To learn more about this report, 
Report Scope
Feature of the Report
Details
Market Size in 2021
USD 2.1 billion
Projected Market Size in 2030
USD

4.2

billion
CAGR Growth Rate
7.1% CAGR (2022-2030)
Base Year
2022
Forecast Period
2023-2032
Prominent Players
GoDaddy Operating Compan LLC, Edicy LLC (Voog), Jimdo GmbH, WordPress.com, The Endurance International Group Inc., SITE123, simblainc, Square Inc., Squarespace, Wix.com Inc., WOW Slider, and Others
Key Segment
By Website Type (Static, Dynamic), By Deployment (Cloud-based, On-Premises), By End-User (Individual, Commercial), and Region
Report Coverage
Revenue Estimation and Forecast, Company Profile, Competitive Landscape, Growth Factors, and Recent Trends
Regional Scope
North America, Europe, Asia Pacific, Middle East & Africa, and South & Central America
Buying Options
Request tailored purchasing options to fulfill your requirements for research.
Key Players Insights
The report offers a company analysis to give a 360-degree overview of the major players operating in the market. Moreover, the report also comprises key strategic developments related to the market including new service launches, acquisitions & mergers, agreements, collaborations & joint ventures, partnerships, research & development, as well as regional expansion of key players and participants involved in the global Website Builder Software market.
An in-depth investment analysis has been performed, providing forecast and prevailing opportunities for the market participants. The market report focuses on significant characteristics of the market that comprise historic data, present market revenues, PEST analysis, technological investments, and competitive analysis in the related industry.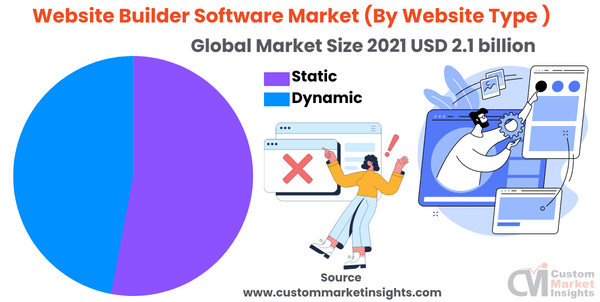 To learn more about this report, 
Some of the prominent players
GoDaddy Operating Company, LLC
Edicy LLC (Voog)
Jimdo GmbH
com
The Endurance International Group Inc.
SITE123
simblainc
Square Inc.
Squarespace
com Inc.
WOW Slider
The global Website Builder Software market is segmented as follows:
By Website Type
By Deployment
By End-User
On the basis of Geography
North America
Europe
France
The UK
Spain
Germany
Italy
Rest of Europe
Asia Pacific
China
Japan
India
Australia
South Korea
Rest of Asia Pacific
The Middle East & Africa
Saudi Arabia
UAE
Egypt
Kuwait
South Africa
Rest of the Middle East & Africa
Latin America
Brazil
Argentina
Rest of Latin America