North America held the Largest Share of the Automation Testing Market in 2021
According to Custom Market Insights (CMI), The Global Automation Testing Market size was estimated at USD 17.5 billion in 2021 and is anticipated to reach around USD 57 billion by 2030, growing at a CAGR of roughly 16% between 2022 and 2030.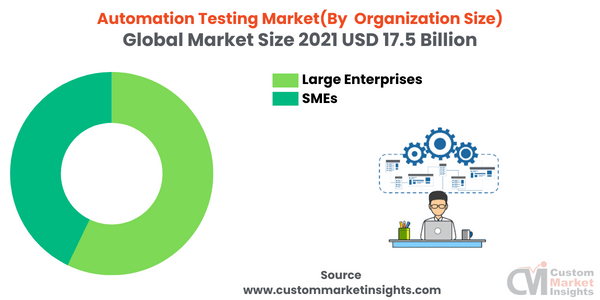 To learn more about this report, 
Our research report offers a 360-degree view of the Automation Testing market's drivers and restraints, coupled with the impact they have on demand during the projection period. Also, the report examines global opportunities and competitive analysis for the Automation Testing market.
Automation Testing Market: Overview
Software and other technology products are tested using automation to ensure they meet strict requirements. Essentially, it is a test to ensure the hardware or software works as expected. It looks for errors, faults, and other issues that could arise throughout the product creation. Businesses can improve their testing processes and increase their Return on Investment by using automated testing. Testing that is automated can speed up development, eliminate human mistakes, and handle repetitive and boring tasks.
For instance, the open-source automation platform Appium. This multi-platform tool can be used to test native, hybrid, web, and mobile applications as well as run scripts. Before they are published, developers can test their programs and applications on real and virtual devices using a variety of online and mobile testing platforms. Among the businesses on the list are Cypress, Selenium, Jenkins, and BrowserStack Sauce Labs. These companies give customers the option to conduct cloud testing using several OS, browser, and simulator combinations. In 2022, 73% of testers will use automated testing for functional and regression testing, according to the study.
Browse the full "Automation Testing Market Size, Trends and Insights By Testing Type (Functional testing, Non-Functional testing), By Endpoint Interface (Online, Desktop, Mobile, Embedded Software), By Organization Size (Large Enterprises, SMEs), By Service (Advisory & Consulting, Implementation, Support & Maintenance, Others), and By Region – Global Industry Overview, Statistical Data, Competitive Analysis, Share, Outlook, and Forecast 2023–2032″ report at https://www.custommarketinsights.com/report/automation-testing-market/
Growth Factors
Due to the rapid development of contemporary technologies such as the Internet of Things, Artificial Intelligence, and machine learning, the automated testing industry has a wonderful opportunity to assess various cutting-edge technical applications. In recent years, rule-based software has been used to manage the majority of commercial processes. Software testing is in high demand as digital transformation quickens. According to a study, global spending on digital transformation will exceed USD 1.3 trillion in 2020, up 10.4% annually.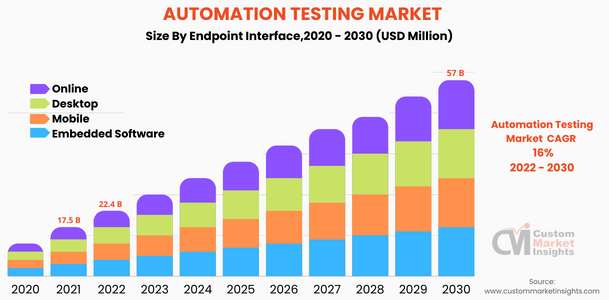 To learn more about this report, 
In order to innovate, automate procedures, save money, and gain a competitive advantage, many organizations are integrating IT into their business systems. Some technologies powering digital transformation include big data, cloud computing, business analytics, and artificial intelligence. IT solution implementation requires a large financial investment, and any system bugs or outages can cost businesses dearly in terms of revenue and reputation.
The software operations must therefore be flawless and efficient. Software upgrades fall under the same category. Therefore, automation testing is necessary to ensure that the software operates as intended. Additionally, due to Industry 4.0 technology, automation testing has gained significance. Automated testing depends on continuous delivery, shortening release cycles, expanding test coverage, and ensuring high-quality releases.
Segmental Overview
The market for Automation Testing is segmented into testing type, endpoint interface, organization size, service, and end-use. Based on testing type, due to the increasing use of this in security testing, compatibility testing, performance testing, compliance testing, as well as software usability testing, the non-functional testing segment is anticipated to account for the biggest revenue share over the projection period. It also looks into the system's security and disaster recovery protocols and its performance under demand.
A deep understanding of the technologies and behavior of the product is provided by non-functional testing. It helps to reduce the manufacturing risk and associated expenses for the program. It examines if the system is operating in accordance with the requirements. Functional testing does not address any of these topics, so it does. This type of testing primarily aims to ensure that the application's non-functional components are tested and that the program functions correctly in this environment.
Based on organization size, due to the growing need for automation testing tools among major organizations to ensure the effective running of their company operations, the large enterprises' sector is anticipated to account for the largest revenue share over the projected period. These automation services are also advantageous because they lower operating expenses and increase customer satisfaction.
Software developers seek to outperform the competition by utilizing cutting-edge tactics to provide high-quality software solutions to the market more quickly as larger organizations adopt the digital-first strategy. They are under pressure to adopt productive workflows like Agile and DevOps and automate as many processes as possible.
Regional Overview
The automated testing industry is expected to be dominated by North America. The widespread presence of technology suppliers primarily drives the region's market. Eggplant, a software test automation platform provider that automates test design and execution using artificial intelligence (AI) and analytics, was purchased by Keysight Technologies Inc. in June 2020. To establish a disruptive force in the market for automated software testing that spans the physical and protocol layers and into the application layers, Keysight and Eggplant join two complementary businesses. It is envisaged that the acquisition will allow both companies to leverage measuring technology in both directions, increasing solution differentiation in the enlarged offering.
Report Scope
| | |
| --- | --- |
| Feature of the Report | Details |
| Market Size in 2021 | USD 17.5 Billion |
| Projected Market Size in 2030 | USD 57 Billion |
| Market Size in 2022 | USD 22.4 Billion |
| CAGR Growth Rate | 16% CAGR (2022-2030) |
| Base Year | 2022 |
| Forecast Period | 2023-2032 |
| Prominent Players | Microsoft Corporation, TestMatick, Parasoft, QA Mentor, Testrig Technologies, Tricentis, Cigniti Technologies, Froglogic GmbH, QualityLogic, Micro Focus, IBM Corporation, Belitsoft, ScienceSoft USA Corporation, SmartBear Software, Ranorex GmbH, Devstringx Technologies., and Others |
| Key Segment | By Testing Type, Endpoint Interface, Organization Size, Service, and Region |
| Report Coverage | Revenue Estimation and Forecast, Company Profile, Competitive Landscape, Growth Factors, and Recent Trends |
| Regional Scope | North America, Europe, Asia Pacific, Middle East & Africa, and South & Central America |
| Buying Options | Request tailored purchasing options to fulfill your requirements for research. |
Competitive Landscape
Many major international and local firms are in the fairly competitive market for automated testing. These industry players, who hold a sizeable portion of the market, are concentrating on growing their global clientele. To get a competitive edge over the projection period, these vendors concentrate on the research and development investment in developing new solutions, strategic alliances, and other organic & inorganic growth initiatives.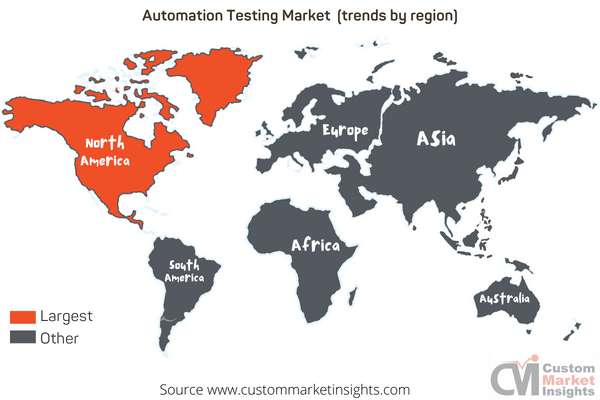 To learn more about this report, 
2021: Tricentis introduced Tricentis Tosca, a cutting-edge AI-based test design and automation tool that enables businesses to meet the demands of the rising popularity of cloud-native and corporate application platforms. Vision AI powers Tricentis Tosca.
2021: Backtrace, a company well-known for providing error monitoring tools, was purchased by Sauce Labs.
The global Automation Testing market is segmented as follows:
By Testing Type
Functional testing
Non-Functional testing
By Endpoint Interface
Online
Desktop
Mobile
Embedded Software
By Organization Size
By Service
Advisory & Consulting
Implementation
Support & Maintenance
Others
By Region
North America
Europe
France
The UK
Spain
Germany
Italy
Rest of Europe
Asia Pacific
China
Japan
India
Australia
South Korea
Rest of Asia Pacific
The Middle East & Africa
Saudi Arabia
UAE
Egypt
Kuwait
South Africa
Rest of the Middle East & Africa
Latin America
Brazil
Argentina
Rest of Latin America