Molding compounds are composed of a conductive material, a thermoplastic polyvinyl butyral terpolymer binder, and a glycol ether solvent and carbon particle infused into the ink. Due to its good conductive property is widely used in automotive, electronics, displays, switches, and many others.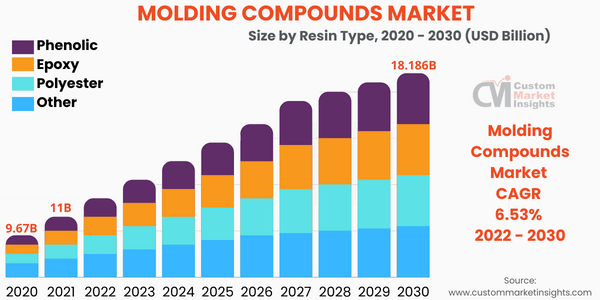 To learn more about this report, 
Browse the full "Molding Compounds Market Market Size, Trends and Insights By Resin Type (Phenolic, Epoxy, Polyester, Other), By Application (Electrical and Electronics, Automotive, Aerospace, Others), and By Region – Global Industry Overview, Statistical Data, Competitive Analysis, Share, Outlook, and Forecast 2022–2030" report at https://www.custommarketinsights.com/report/molding-compounds-market/.
Market dynamics
 Drivers
Escalation in demand from the packaging sector
The increase in population has led to a rise in demand for various consumer goods, propelling demand for molding compounds in the packaging sector as they are widely used for manufacturing films & wraps. For instance, according to a report published by the National Investment Promotion and Facilitation Agency, the packaging industry was worth over $917 billion in 2019 and is expected to reach $1.05 trillion by 2024, growing at a CAGR of 2.8%. These factors are anticipated to enhance the demand for molding compounds in the packaging market.
Restraints
Health concerns associated with molding compounds 
However, exposure to molding compounds in manufacturing plants has adverse effects on health, such as eye irritation, cough, throat infection, and skin irritation. Additionally, the rise in prices of raw materials and the adoption of alternative substitutes over molding compounds are expected to hamper the market growth. 
Opportunities
 The rise in building and construction activity  
An increase in investments in the building and infrastructure industry in countries such as the U.S., China, Japan, Mexico, and India has led the building & construction sector to witness significant growth where resin-based molding compounds such as epoxy, phenolic resins compounds are employed as insulating materials and cladding panels. These factors collectively witnessed high potential growth for molding compounds, thus, offering remunerative opportunities for the market.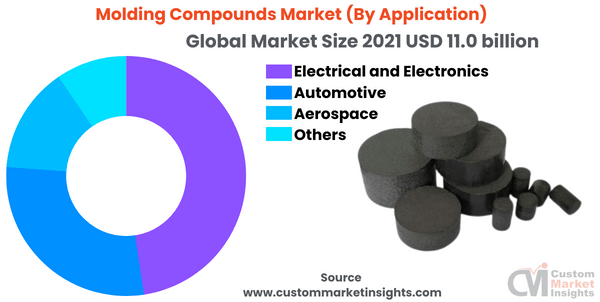 To learn more about this report, 
 Challenges
Availability of another substitute 
 Polyester resins release various toxic chemicals that, if exposed beyond the concentration limit, may cause several health-related issues such as health-related issues such as irritation in the eye, vision failure, respiratory problems, dizziness, genotoxic, cardiovascular, and gastrointestinal problems due to which manufacturer and consumer are shifting their preferences to other less toxic and sustainable molding compounds material. These factors may act as a challenging factor in the molding compounds market. 
 Report Highlights
The molding compounds market is segmented by type: polyester, epoxy, phenolic, and others. 
The phenolic segment dominated the market in 2021 and is expected to grow over the forecast period, and holds 39% of the total market share. This is attributed to the fact that the growing population, growth in consumer demand, and increase in demand for electrical and electronics-based devices have put more emphasis on manufacturers for the production of phenolic-based molding compounds, which it is used in combination with paper and fabrics as an insulation material in electrical and electronics components and circuit boards, owing due to its heat resistance property. These factors will increase the demand for molding compounds during the forecast period. 
Based on application, the segment includes aerospace, automotive, electrical, and electronics. It is expected that the global electrical and electronics segment to hold a dominant position during 2022 -2031 with a maximum share of 30%. 
The growth of the molding compounds market is driven by industrialization, urbanization, and disposable income, and demand for electrical and electronic devices has increased significantly. Molding compounds are used extensively, owing to their widespread functionalities, such as being reliable, dimensionally stable, and helps prevents short circuits in electrical devices. This is expected to drive the market in the electrical and electronics segment.
Regional Snapshots. 
Region-wise, the market is studied across North America, Europe, Asia-Pacific, and LAMEA. 
Asia-Pacific is the dominant region and holds 43% of the total share in the molding compounds market. This region is anticipated to maintain its dominance throughout the forecast period. 
Countries such as China, Japan, India, and others have significantly contributed to the growth of the molding compounds market in the region. Key factors such as the rising population, growing demand for electric vehicles and electronic components, and other end-use industry has surged the demand for molding compounds. Furthermore, the rise in automotive sectors that have enhanced the demand for molding compounds in the Asia-Pacific.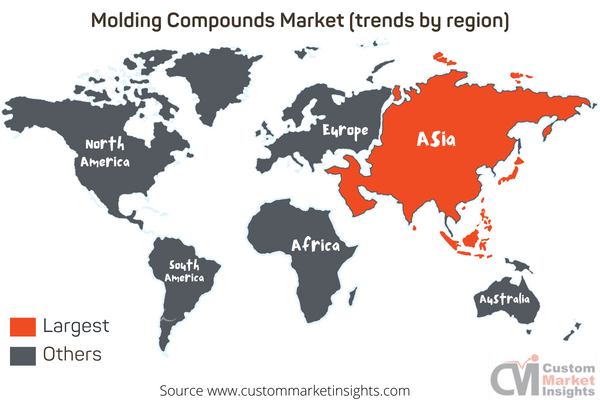 To learn more about this report, 
The electric vehicle sector in China is increasing rapidly, which has forced molding compound manufacturers to produce high-quality molding compounds for use in sealing systems to enhance the aerodynamics of vehicles. These factors are escalating the potential sales of molding compounds in Asia-Pacific.
Report Scope
| | |
| --- | --- |
| Feature of the Report | Details |
| Market Size in 2021 | USD 11.0 billion |
| Projected Market Size in 2030 | USD 18.186 billion |
| CAGR Growth Rate | 6.53 % CAGR |
| Base Year | 2021 |
| Forecast Period | 2022-2030 |
| Prominent Players | Hexion Inc., BASF SE, Hitachi Chemical Co., Sumitomo Bakelite Co.Ltd., IDI Composites International, CAPLINQ Corporation, SBHPP, Mar-Bal, Starfire Systems, Henkel Adhesives Industry Co.Ltd., SPF Composites., Lubrizol, PLEXIGLAS, Evonik Industries AG., and Others |
| Key Segment | By Resin Type, Application, and Region |
| Report Coverage | Revenue Estimation and Forecast, Company Profile, Competitive Landscape, Growth Factors and Recent Trends |
| Regional Scope | North America, Europe, Asia Pacific, Middle East & Africa, and South & Central America |
| Buying Options | Request tailored purchasing options to fulfil your requirements for research. |
 COVID-19 Analysis
The novel coronavirus is an incomparable global pandemic that has spread to over 180 countries and caused huge losses to lives and the economy around the globe. 
The molding compounds market has had little impact due to the wake of the COVID-19 pandemic; owing to the rise in cases of COVID-19, implementation of emergency protocols and shutdown of various operations and facilities have been observed during 2020.
Due to the spread of the coronavirus pandemic, the manufacturer has faced challenges in terms of operation and supply chain due to government restrictions during the lockdown.  
However, the molding compounds market faced several difficulties with material supply chain disruptions, and labor shortages, in 2020. 
Furthermore, to control the surge of novel coronavirus cases, there is a drastic shift of investments from other sectors toward the automotive sector. Also, several molding compound-based product manufacturing companies have shut down or shrunk their operations due to the risk of infection among the workforce. 
In the first quarter of the pandemic, there was a complete shutdown of building & construction activities, the manufacturing industry, and others. The strict imposition of lockdown has hampered the growth of the molding compounds market. 
In addition, as restrictions imposed due to lockdowns are being lifted in the fourth quarter of the pandemic, building & construction, automotive, aerospace, electronics, and manufacturing sectors are expected to recover, owing to the record of production units in both developed and developing economies.
Key market segments 
By Resin Type
Phenolic

Epoxy

Polyester

Other  
By Application 
Electrical and Electronics 

Automotive

Aerospace

Others
On the basis of Geography
North America
Europe
France
The UK
Spain
Germany
Italy
Rest of Europe
Asia Pacific
China
Japan
India
Australia
South Korea
Rest of Asia Pacific
The Middle East & Africa
Saudi Arabia
UAE
Egypt
Kuwait
South Africa
Rest of the Middle East & Africa
Latin America
Brazil
Argentina
Rest of Latin America